Get Charter Bus Rental quotes immediately for San Diego Motor Coach, San Diego Mini Bus, San Diego School bus, Tour Bus, Limousines, San Diego Entertainer, San Diego Executive, San Diego Limo Bus, San Diego Double Decker, San Diego Passenger Van and San Diego Public Transportation
You as the esteemed client of the promptbuscharters.com can cater to our bus charting services and we can offer you a multifarious range of vehicles for as many purposes as Corporate or Group Travel, Sightseeing Tour or Professional Sports, Religious Convention or Bachelor/ette Party, or like a Wedding or Convention, and Trade Show, to School Field Trip or Political Campaign
A new surprise awaits you When you arrive in San Diego, as  you can see the world as soon as you step off the plane… Eighteen worlds, in fact.
Know the Man behind creation…
Ron Miriello is an American graphic designer, sculptor and speaker. Miriello is the director of Miriello Grafico and a founding member of the San Diego Chapter of the American Institute of Graphic Arts.
His philosophy
WE ALL ARE NATURALLY CURIOUS WHEN WE ARE 8 YEARS OLD.BUT AS MOST PEOPLE GET OLDER, THEY BECOME LESS AND LESS CURIOUS, SO THY ASK OTHER PEOPLE TO BE CURIOUS FOR THEM .THAT'S WHAT I DO FOR A LIVING
The work  created by Ron Miriello, the graphic designer, creative director, business owner and sculptor created his "100 Worlds Project" as a way of rediscovering everyday items.
You will find this collection is on display until December 2016 near Gate 33 in Terminal Two West. It's part of the airport's latest art exhibition, "Port of Entry," featuring a group of artists inspired by the geographic, cultural and social aspects of borders.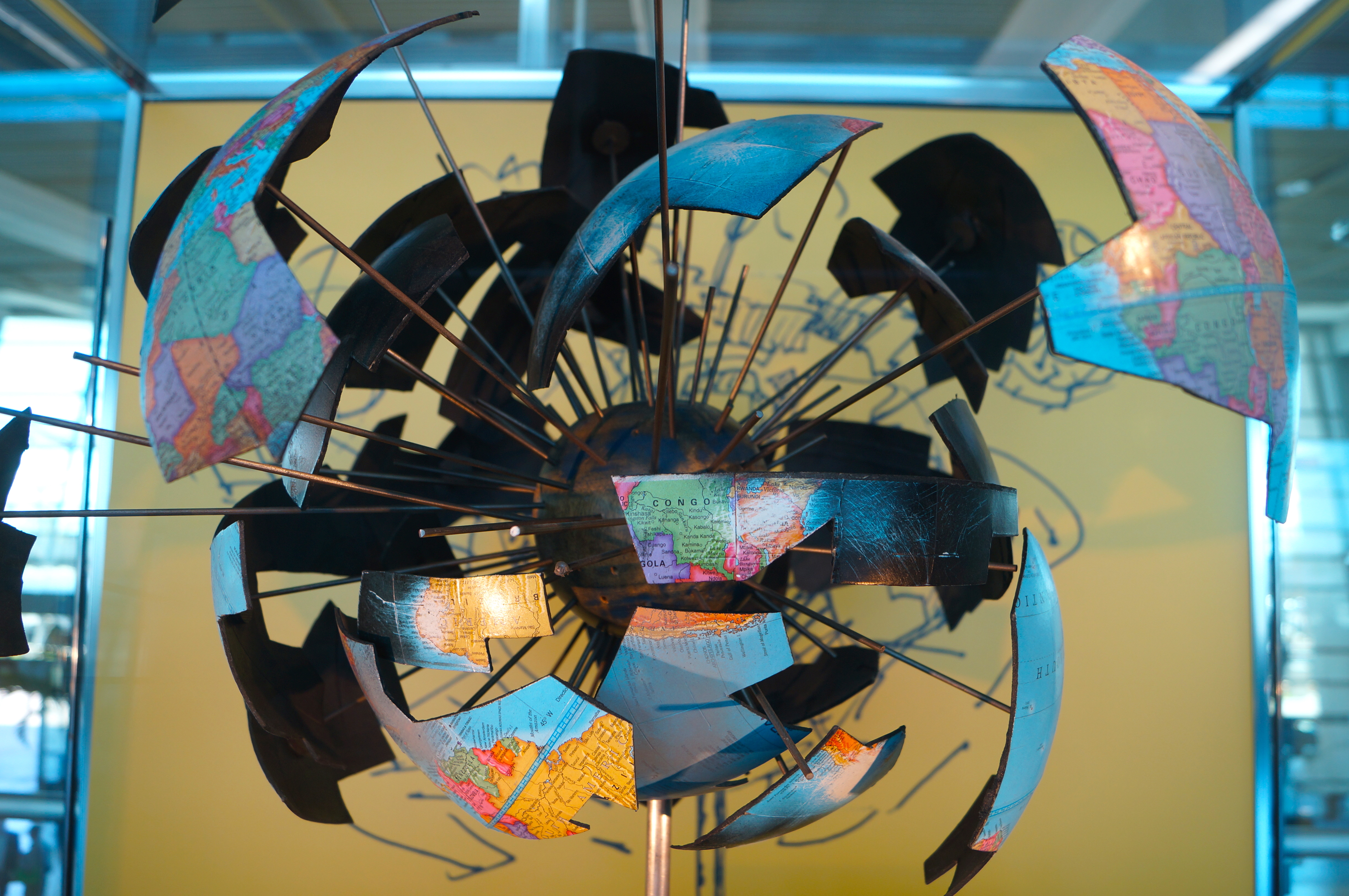 You might be interested to know that one of his globes is made of the soles of shoes worn down from walking. On the other hand, another is a cluster of little pencil nubs, packed tightly in a metal casing. Some are playful, others serious.
Many have industrial components: rugged metal cables, welded steel, pipe wrenches and inner tubes.